Sheldon (Community Foundation of Sheldon, Iowa)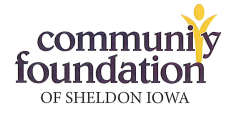 BACKGROUND: The Community Foundation of Sheldon Iowa was formed by a group of forward-thinking community members in 2022.
MISSION: The Community Foundation of Sheldon, Iowa promotes a culture of giving to enhance the quality of life in our community.
PURPOSE: The fund shall be used only for charitable and quality of life projects in Sheldon in the areas including, but not limited to: Animal Welfare, Art & Culture, Parks & Recreation, Veteran Services, Youth Development, Community & Civic Enrichment, and Community Health. The fund creates a way for individuals, families, corporations, and other entities who wish to provide gifts to support community charitable projects in Sheldon, the opportunity to do so through a non-profit organization separate from the City of Sheldon.
MAKE A DONATION TO THE COMMUNITY FOUNDATION OF SHELDON IOWA TODAY! 
Click here to open a separate window with the 2023 CFSI Brochure (PDF)
ADVISORY BOARD:
Judy Winkel – Chair (712) 324-0077
Justin Jonas – Vice Chair (712)348-0173
Jim Buenger – Member
Dean Fjeld – Member
Greta Giese – Member
Holly Kamstra – Member
Shantel Oostra – Member
Jan Snyder – Member
Tom Whorley – Member
Sam Kooiker – Ex-officio (Sheldon City Manager)
Curt Strouth – Ex-officio/Secretary & Treasurer  (SCDC Community Development Director)